CARBON NEGATIVE EYEWEAR
Unlike being carbon neutral, where CO₂ emissions are compensated at a ratio of one to one, Eco Eyewear is carbon negative. This means that our efforts in reducing carbon emissions by planting trees actually surpass neutrality and that our trees clean out more CO₂ than our eyewear production creates.
With over 3.3 million trees planted through our One Frame, One Tree program, we continue to pioneer sustainable eyewear as a carbon negative brand.

Our 360° sustainable approach
Because when it comes to sustainability, every detail counts.
RECYCLED PET & PAPER

Sustainability isn't just for frames. Our cases and packaging minimize our footprint too. That's why the fabric of each case and cleaning cloth is made from recycled PET, and all outer packaging and inserts are made from recycled paper.
RECYCLED PAPER

In our production, recycling is a recurring theme. We only use recycled paper for all printed materials, inserts, and outer packaging.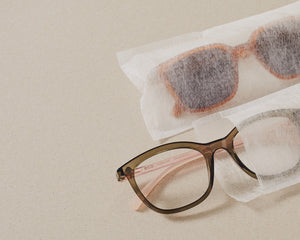 CORNSTARCH BAG

Our biodegradable transport bag is made from 100% cornstarch. It might not look like much, but it's actually the first of its kind in the eyewear industry!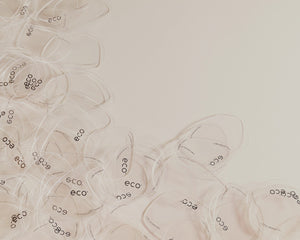 RECYCLED PLASTIC DEMO LENSES

Our demo lenses are made from 99% recycled plastic while ensuring the same quality, strength and clarity as lenses made from virgin plastic. The result is yet another reduction of our carbon footprint and less waste entering the world's landfills and oceans.
SUSTAINABILITY ON DISPLAY

We're proud of our frames and want to show them off. And when we do, we display them on trays and stands made of 100% FSC certified bamboo or recycled paper.
BORN A SUSTAINABLE EYEWEAR BRAND
We've been leading the way of sustainability in the eyewear industry since 2009. Our unwavering commitment to work sustainably in every aspect of our business have set a standard for the whole industry. We believe that being eco-friendly is not a trend, but a responsibility, which is why all of our frames, displays and packaging are made with our environment in mind.
"I am extremely excited to add this very fundamental element of carbon negativity to our already sustainable Eco brand. We are the only eyewear brand in the world to offer virtually every sustainable eyewear and packaging material and now we are also carbon negative! We have become the brand that gives back more than what it takes. What an incredible feeling for our customers and final consumers, knowing that by purchasing our products they'll contribute positively to the environment! It is a very proud milestone for all of us at Eco!"

Alessandro Lanaro, MODO Group CEO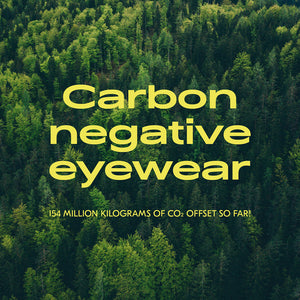 SUBSCRIBE TO OUR NEWSLETTER
and be the first to know everything about our carbon negative eyewear!